Happy Meat from
a Happy Farm
Unlike almost anywhere else, using the six digit ear tag number that we provide on all our labels, you can trace your Happy Meat products back to the unique cows they come from and the special farms and families that reared them. One such farm is Regilbury Park Farm – lovingly stewarded by Farmer Richard Searle.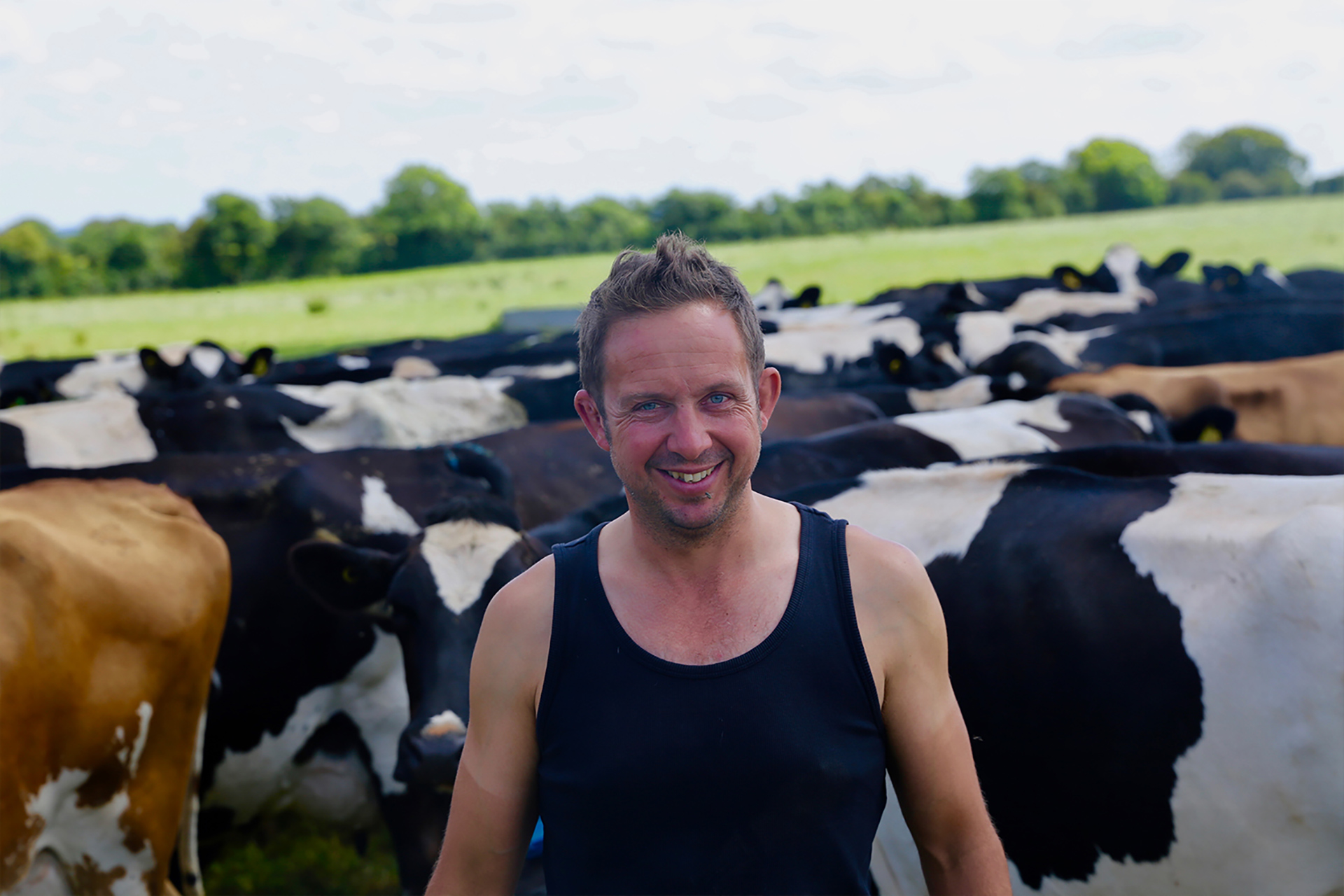 Richard posing in front of his cows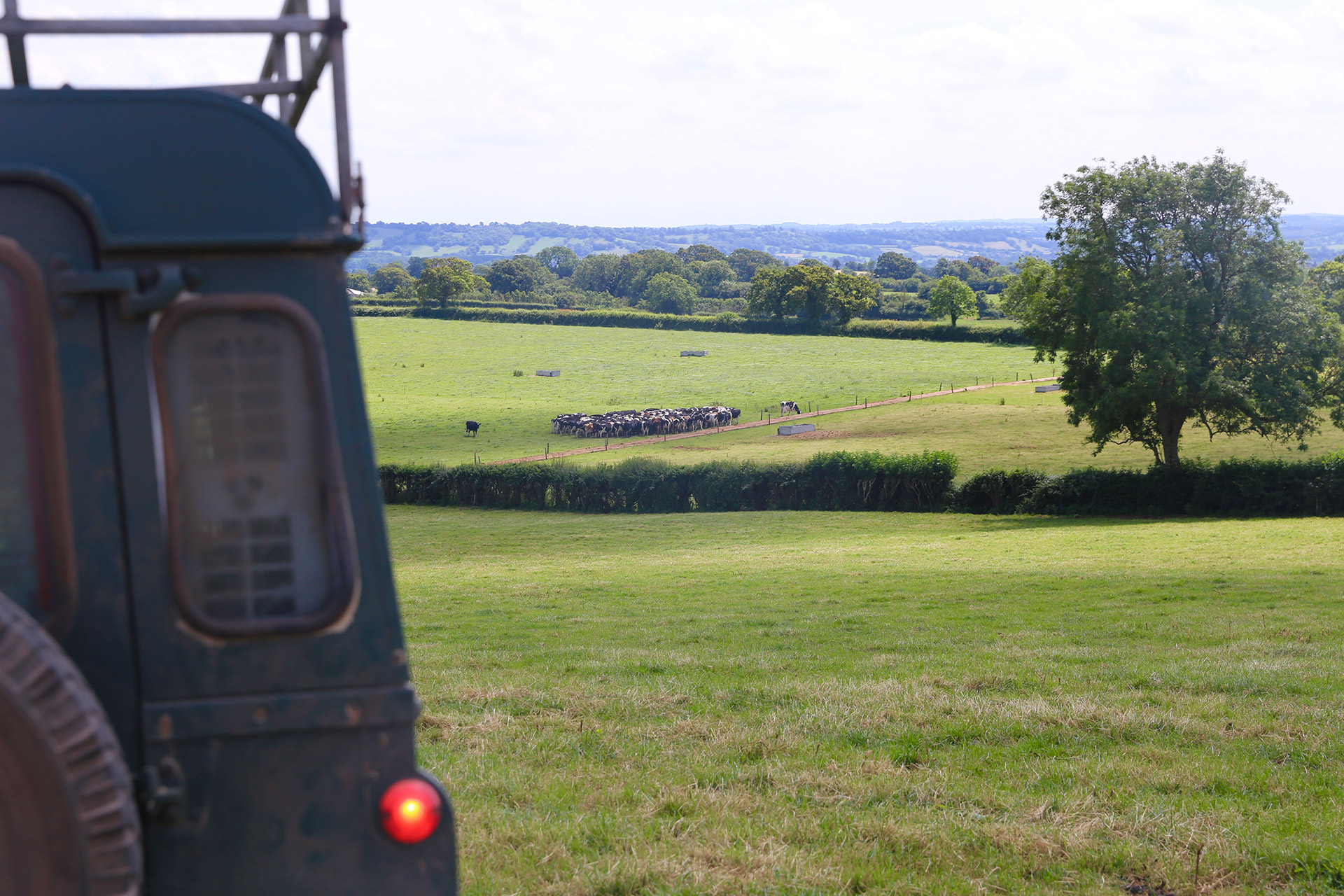 Richard's cows running toward camera from a distance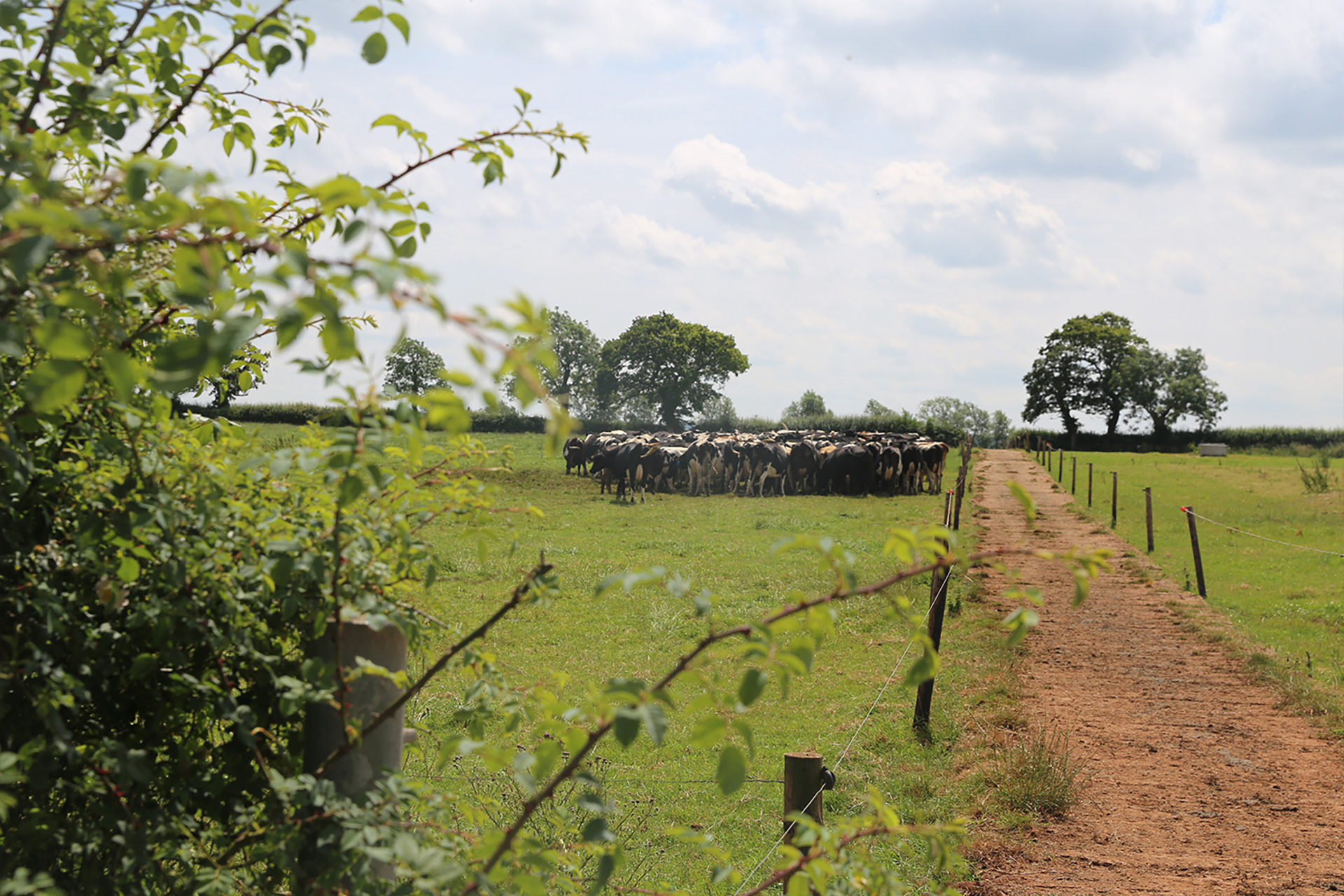 Richard strolling towards his cows in the distance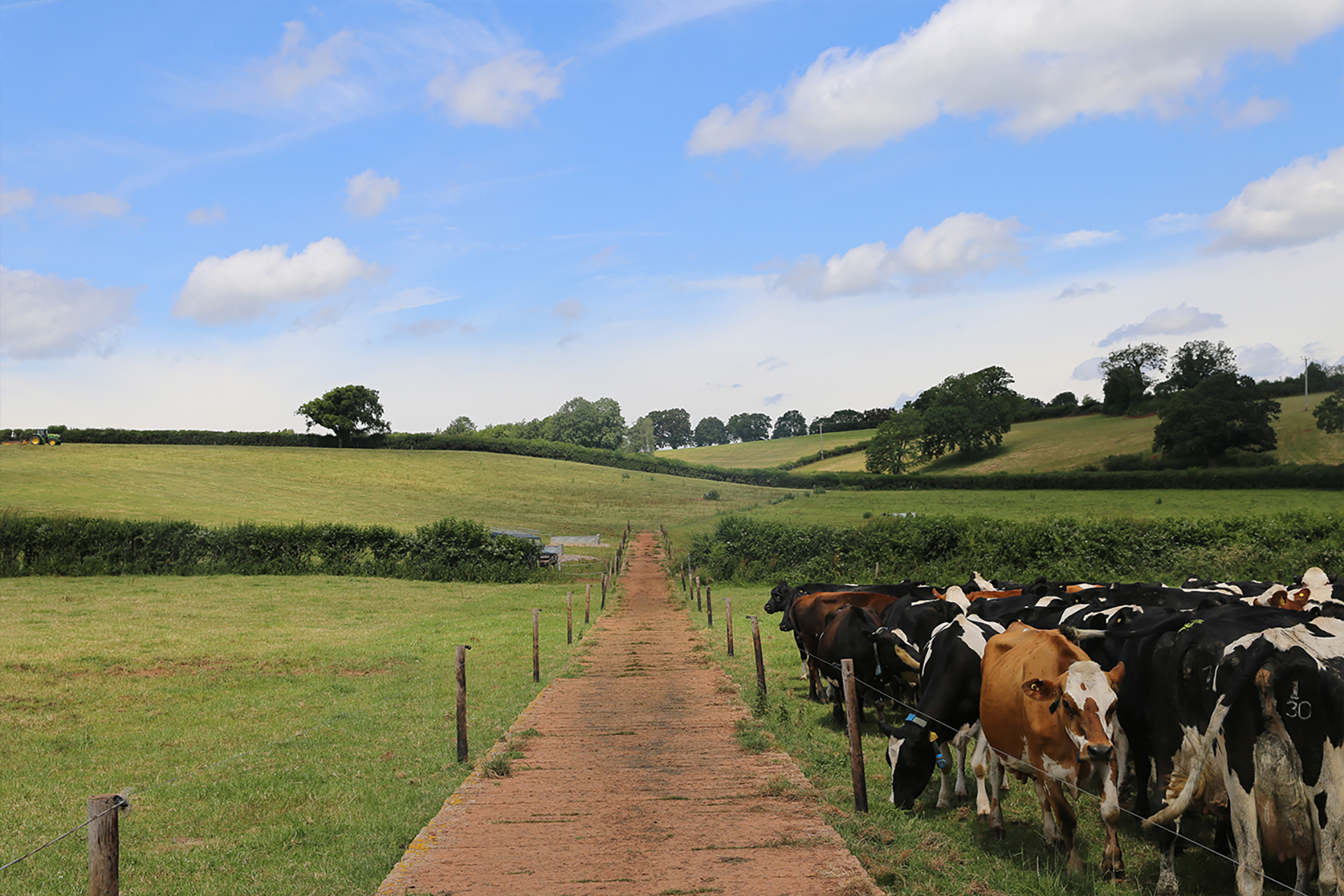 Richard's cattle posing for the camera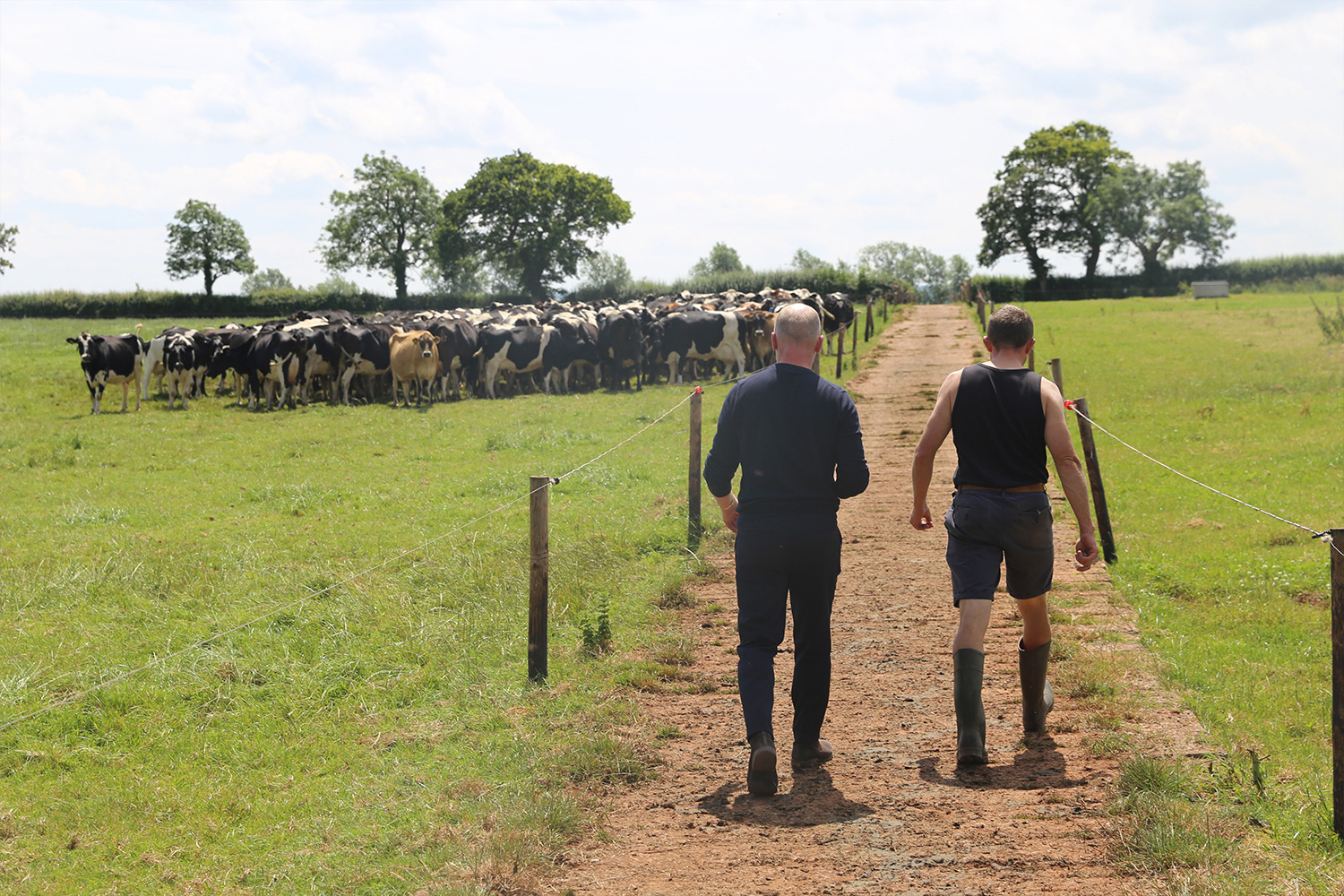 Richard walking towards the cattle at the farm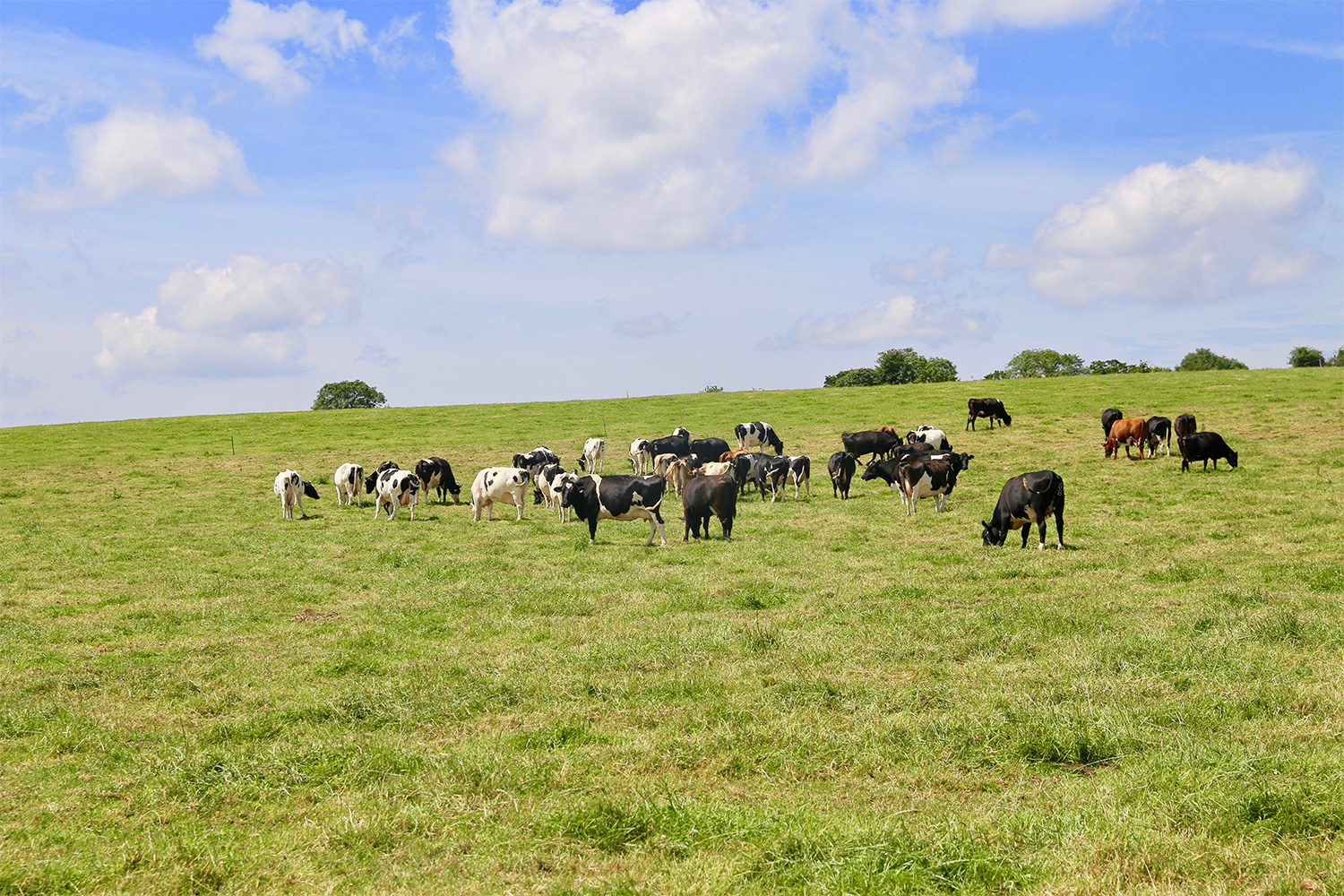 The cattle simply doing their thing
The Farm
Our farm spans across 4000 acres of the most beautiful pastures located on the rolling fields beneath the Mendips. Unlike more industrialised farms that work around nature to squeeze as much out of their livestock or croplands as possible – this one operates from the philosophy of abiding by, and supporting, nature in everything it does.
No chemicals or sprays – happier worms, healthier soil
Farmer Richard has worked incredibly hard to be able to avoid chemical or unnatural fertilizers and sprays wherever possible. This is incredibly rare and testament to the earnest desire he has to farm the natural way. Rather, he prefers to use natural fertilizers — like the dung produced on the farm itself – seeing that this keeps worms alive and kicking in the area which are able to provide crucial nourishment to the biodiversity of the ground and the ecosystem as a whole!
Supporting local wildlife & habitats
In the UK, we've seen over half of our wildlife species wiped out since the 1970s and it's no secret that intensive farming practices shoulder a lot of the blame. Since Rich has gotten into farming, he's worked to do away with all artificial herbicides or pesticides and invested heavily in rejuvenating the surrounding biodiversity and ecosystem the farm.

As part of the Countryside Stewardship Scheme, over the last 25 years the farm has seen more than 12,000 broadleaf native trees plantes, such as Oak, Ash, Beech and Hazel as well as miles of native hedgerows like blackthorn and quickthorn which act as crucial habitat links for local wildlife.

What's more, many wildlife corridors have been set around the arable fields and more than 75 acres of wild meadows are being managed which include flowers like birdsfoot trefoil, cornflowers, poppies, lady's bedstraw, yellow rattle and ox-eye daisy. Other environmental measures include the creation and renovation of ponds and tributaries flowing into the nearby River.

As a result of years of effort, The farm is now home to vibrant fauna including Greater Horseshoe bats, owls, hares, frogs, slow-worms, otters, foxes and birds of prey – animals we consider to help sustain the health of the farm, rather pest it.
The Cows
This farm is home to about 1,700 of the happiest and healthiest dairy cows you've ever seen, with breeds ranging from British Friesian, Holstein, Holstein Friesian and a few Jerseys here and there.
Free range, High welfare
All the cattle are 'free range' – spending their days outdoors unles the weather is so bad on the grasslands that there's high risk for cows to slip and critically injure themselves.
Natural (low) yield milking
While the industrialised dairy business has pushed cows to produce up to 12,000 litres per year, in order to ensure the highest possible, natural standard of living, the cattle on the farm produce about 7,500 litres per year. This means that rather than spending their entire day at the milking parlour, the happy cows only get milked very briefly at the beginning and middle of the day – spending the rest out on the fields or in their bedded stables.
Better together, never alone
Academic research is increasingly showing how social cows are and the significant role that relationships play in both their emotional wellbeing and the quality of their produce. Farmer Richard makes sure that the cattle across the whole farm spend as much time in groups as possible – and never isolated or penned in alone.
Longer, happier lives
Though genetically they should live much longer, Beef cows usually live up to about 2 years old before being sent to the abattoir for beef production. As well as being relatively lower yielding when it comes to the demands on them to produce milk, the dairy cattle that we use for Happy Meat have lived much longer, happier lives – between 5 and 10 years old on average.
Following The RSPCA's Five Freedoms
The stockmanship for all animals at at the farm is based on the principles of the RSPCA's Five Freedoms:
Freedom from hunger and thirst
Freedom from discomfort
Freedom from pain, injury or disease
Freedom to express normal behaviour
Freedom from fear and distress
The Feed
Always natural
The livestock on our farm are fed on a rich and diverse range of natural feeds. In the Summer months these include grass, clover and crop residues including stubble turnips and spent distillers grains from the local brewer while in the winter it includes conserved forages like grass silage, maize silage and some nutritious concentrate feeds.
Always local
Farmer Richard has made it his life's work to make his farm and all the products coming out of it as self sustaining as possible. So, the majority of the feeds that are given to the cattle on the farm have actually been planted and harvested on the farm itself or those nearby. The only feeds that sommetimes come from abroad are the nutritious concentrates. These either come from other areas in the UK or nearby European countries where there is ample arable land to grow it – never from deforested lands in South America.
The Farmer
As far back as he can remember, Farmer Rich grew up in Britain's West Country sticks knowing one day he would become a farmer. With a keen interest in livestock and animal welfare, he studied agricultural engineering at university and then went on to work at an Organic Dairy farm for 12 years. Farming may not be in his blood, but it's certainly in his heart. 3 years ago, Farmer Richard was offered the opportunity to work on producing the very, very highest standard of British Cheese by farming in the most natural, environmentally friendly way. It's been a big challenge but one that he's been absolutely bossing ever since!