How to cook Beef Bourguignon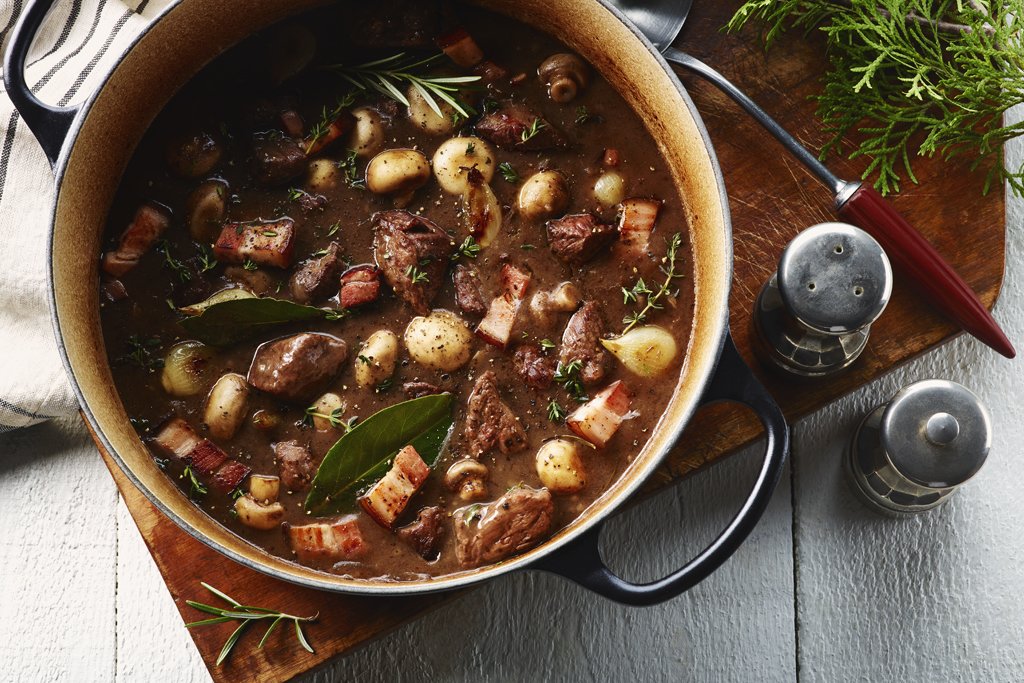 Background
Now refined into haute cusine, beef bourguignon actually has its history rooted in affordable, peasant food! From the Burgandy (Bourgogne) region just outside Île-de-France, the dish traditionally made use of the much prized Charlais cattle that was and continues to be reared locally. Initially published as a recipe by Auguste Escoffier in the 19th century, this recipe follows the original almost entirely except for some marginal changes that have become staple additions to the dish over time.
Ingredients for Beef Bourguignon
Serves 2
Braising Steaks (1600g)
300g of bacon lardon
Handfull of Bay leaves
1 spring of Thyme
1 bottle of red wine
2 tablespoons of olive oil
2 large onions
3 table spoons of flour
1 tablespoon of tonato purée
500g small shallots
500g mushrooms
How to prepare Beef Bourguignon
Cut braising steaks into large chunks
Cut carrots into large chunks
Roughly chop the 2 onions
Roughly chop the parsley
Preheat oven to 200C fan / 180C gas 6 chop the parsley
Preheat pan over a medium heat
How to cook Beef Bourguignon
Throw the braising steak chunks into a large bowl and add a small bunch of thyme, 4 bay leaves, 2 bottles of wine. Season with some pepper and place in the fridge to marinate and cool overnight.
Take a colander nad strain the marinated meat over it into another large bowl. Make sure to keep the meat infused wine!
Throw the braising steaks chunks onto the pan and brown. Let the browned chunks rest to one side.
Take the same pan and fry the chunks of carrot and onion until they start to colour. Add the 3 tablespoons of plain flour and stir for 1 minute and then stir in 1 tablespoon of purée.
Add the rested steak chunks back into the pan along with any juices and wine that's been kept from earlier. Season well with salt and pepper and bring the mixture it to a light simmer, and then cover the pan.
Move everything over to the oven and bake for approximately 2 hours so the beef becomes very, very tender.
Allow the bourguignon to cool.
Take the bacon lardons and shallots, throw them into a pan that's been preheated over a medium flame with a small knob of butter in it. Allow to sizzle for 15 minutes or until the bacon starts to become very crisp and the onions have caramelised.
Add the mushrooms and fry the mixture of 5 minutes. Finally stir into the stew over a low heat for 10 minutes.
What to serve with Beef Bourguignon
We recommend serving your Beef Bourguignon with either basmati rice or boiled potatoes! Yummmmy!