How to make barbecued Philly cheese steak sandwiches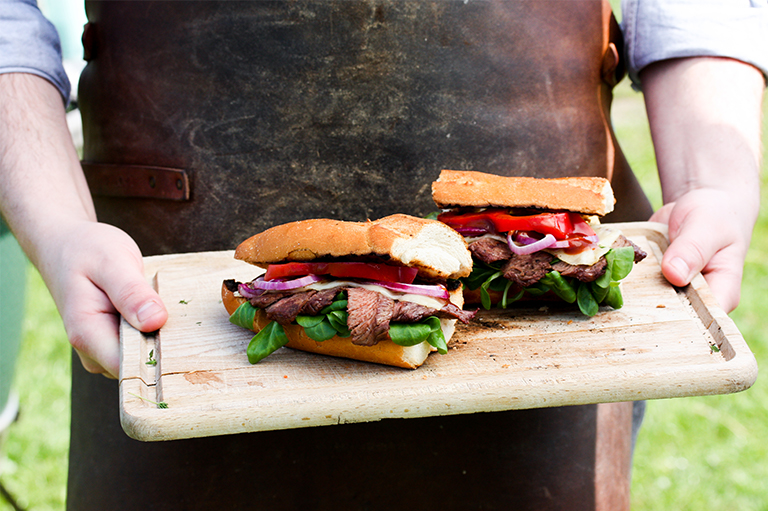 Is your barbecue sizzling and ready to go? Start by prepping some garlic oil: mix the sunflower oil with the finely sliced garlic, add a pinch of salt and some freshly ground pepper. Cut your baguette into four, slice each piece open and brush on some garlic oil. In a bowl, mix the diced pepper and onion rings with the rest of your garlic oil, until evenly coated.
Ingredients for Cheese Steak Sandwich
Serves 4
4 tablespoons of sunflower oil
1 garlic clove, finely chopped
1 large baguette
1 red onion, sliced in rings
1 red bell pepper, diced
4 minute steaks
4 tablespoons of barbecue sauce
4-8 slices of cheddar
A handful of crisp salad leaves
A pinch of salt and freshly ground black pepper
Toast your home-made garlic bread face down on the grill. Then remove from the heat and place your steaks on the grill until cooked (we'd suggest 'medium'). Let them rest on the side for a few minutes, then season with salt and pepper and slice thinly. Spread the beef slices on your bread, add a dollop of barbecue sauce and one or two slices of cheddar. Sandwich together, wrap in foil and place at the edge of your grill, until the cheese starts to melt. Add the pepper, onions and fresh salad leaves, plus barbecue sauce to taste.